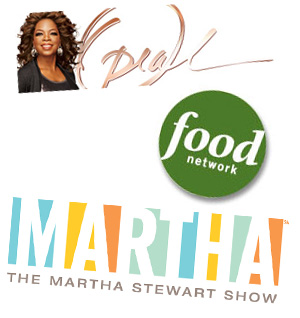 Halloumi Cheese is making its mark as a unique item to cook and serve, and many popular culture personalities are taking notice. Halloumi has recently been featured on
Bobby Flay's "Boy Meets Grill"
and on
George Duran's "Ham on the Street"
on the
Food Network
, on the
Martha Stewart Show
, and on
Oprah.com
, among many others.
Here are a few words from some of today's most popular chefs and food personalities about the wonders of Halloumi cheese:
Jamie Oliver, cookbook writer and star of The Naked Chef:
"Halloumi cheese is like a chewy feta but one you can cook with. When fried or grilled it goes all crispy on the outside and soft and slightly chewy on the inside. A brilliant thing to eat."
Nigella Lawson, renowned food TV host, writer, and journalist:
"What I love about Halloumi is that it doesn't go gooey when it heats up; it just softens slightly and all its tastes intensify. Generally speaking, what I do is fry it in an oiless pan and it gets wonderfully blistered."
Chef Aarti Sequeira, from Food Network's Aarti Party:
"This cheese is ridiculously yummy. It has a high melting point, so you can fry it and it gets sort of crispy on the outside and gooey and stringy on the inside. This is sort of the miracle cheese."
---
"Zingerman's May-June '98"
Truth be told, up until a few months ago I'd hardly even heard of Halloumi (pronounced "ha-loo-mee"). I knew the name but not much else. The few times I tried it, all I had was some unimpressive industrial version, and I'd paid it little mind. What turned me around, and then on, was passionate pursuit by some very vociferous Cypriots living in Ann Arbor. Their enthusiasm for their native cheese caught my attention. Passion for great food is something I like to be around. So I took them up on their offer to try some of their traditional cheese. Two months later I've become a champion for this special Cypriot cheese.
So what exactly is Halloumi? It's a mix of sheep's and goat's milk, made for centuries on the Mediterranean island of Cyprus. Fresh curd is submerged in hot whey to soften and stretch it, along the lines of mozzarella making. The young cheese is then aged in baskets and folded into wedges about the size of a large wallet. On Cyprus, Halloumi is an assumed part of daily eating; it appears at breakfast, lunch and dinner. For many Cypriots, a meal would be incomplete without it.
What's so special about it? For openers, it's unique to Cyprus. More importantly, it has a very appealing flavor that's unlike any other cheese: mellow, but not in the least boring, mildly sheepy, notably tangy, never too strong. Halloumi can be enjoyed almost any of the ways you'd eat other cheeses: sliced up as is for a simple snack, cubed onto salads like you would feta or melted on casseroles.
The Great Grilled Cheese of Cypress
To me though, the number one, tip-top tastiest way to eat Halloumi is to fry it or grill it, just enough to get its exterior a good golden brown. There's no other cheese that I've seen that grills up as nicely as Halloumi. A light, golden-brown crust bubbles up on the outside of the cheese; the interior gets soft, not quite runny, but very delicious. Grilling Halloumi is hardly difficult. Simply slice some of the cheese into half-inch thick pieces, then lay them into a hot skillet that's been brushed with just a hint of olive oil. You don't need much oil--in fact you can even go without any at all if that's your preference. Leave the cheese in the pan 'til it's lightly browned on its down side, about two to three minutes. Carefully flip the slices and fry them on the other side. When the cheese is golden brown on both sides, it's ready to eat.
You can serve slices of lightly-fried Halloumi on their own as an appetizer, with or without a light drizzle of additional olive oil and a grind of fresh black pepper. It makes an excellent appetizer, offered up next to wedges of ripe melon. Try it topped with a homemade caper sauce: salted capers, soaked for a few minutes to remove the salt, then drained and mixed with extra virgin olive oil, vinegar, a bit of lemon, some crushed coriander seeds, chopped fresh cilantro leaves, chopped garlic, some sea salt and freshly ground black pepper.
Best of all are slices of grilled Halloumi laid atop a summer green salad. On Cyprus, the salad green of choice is arugula. Apparently it's eaten all the time. And slices of Halloumi perched atop a salad of fresh arugula leaves is absolutely lovely. If you like, add a few grilled ripe fig halves for good luck. Then dress it all down with a good extra virgin olive oil and some aged wine vinegar. I can tell already this dish is going to be the hit of my summer menu.
Halloumi is also eaten a lot for breakfast. Cypriots swear that the best way to eat it at that time of day is to serve it with wedges of ripe watermelon. And you know, it's darned good. For a more familiar morning format, serve grilled Halloumi alongside a few slices of toast, wedges of tomato, a couple of eggs over easy (cooked in olive oil, of course, which makes for an outstanding fried egg, though that's a story for another day), and a good cup of coffee.
Zingerman's Has Only Handmade Halloumi
Of course, because this is Zingerman's, you probably already guessed that this is no ordinary Halloumi. With the help of our Cypriot friends in Ann Arbor, we've managed to track down a handmade Halloumi, which is far more flavorful than the otherwise available commercial versions of the cheese. Most Halloumi exports are made in moderately large factories with an eye on shelf-life and cost-cutting. But this one--as you probably already expected--is something special. It's made in a small dairy, run by three hands-on brothers who believe that flavor is more meaningful than mass production. The milk is gathered from the animals grazing the hillsides of Cyprus, eating a diet dominated by wild oregano, thyme, rosemary and other herbs and greens. Their Halloumi is crafted completely by hand from fresh sheep's and goat's milk. After draining in small baskets, each piece is hand-folded around a sprinkling of fresh mint leaves, the traditional garnish for Halloumi.
Oh yeah, I almost forgot. I know I mentioned the Cypriot passion for Halloumi. But what I nearly neglected to report was that back in the 19th century, a Turkish gentleman by the name of Sidqui Effendi wrote a cooking manual in which he says of Halloumi: "This is good food which enhances sex . . ." What else can I say? Why mess around? Have some Halloumi Today.
---
"Deli Business - November 2000"
Halloumi - The Flagship Cheese of Cyprus
Halloumi is a cheese that has graced the tables of Cypriots for centuries. The name has been clearly associated with Cyprus for ages. Recently, the United States Trademark Trial and Appeal Board ruling struck down a challenge from Denmark regarding the name and ruled in favor of Cyprus. "This was very important for us," notes Dennis C. Droushiotis, Cyprus' Trade Commissioner, based in New York, NY. "This is a unique cheese made by historical methods in Cyprus. For consumers to have a traditional cheese, strict standards have to be upheld and this is the case with Halloumi. This is not some generic name. It is part of the fabric and national history in Cyprus. In Cyprus, we actually have the Halloumi police. They visit stores and dairies on a regular basis to make certain the traditional methods are being upheld," notes Droushiotis.
Prepared from sheep's milk or a mixture of sheep and goat's milk with the addition of a little mint, Halloumi is a cheese that adapts well to many uses. The traditional method of making the cheese is by submerging fresh curd in hot whey to soften and stretch it, similar to mozzarella making. It is placed in baskets and then hand-folded into a wallet-shaped piece.
Halloumi is available in individual packages, with a little brine surrounding the cheese. It is usually sold in weights of approximately half a pound. The cheese is very mild, springy in texture and extremely versatile. Like so many other cheeses, much of it is now produced by large dairies and machine made. However, there is still some Halloumi being hand-made using traditional methods.
Tim Mavrellis, president of Mediterranean Ventures, located in Ann Arbor, MI, explains, "Our Halloumi is hand-made according to traditional methods. The secret is to know how to cook the cheese and for how long. Undercooking or overcooking produces an inferior product." Halloumi is a fresh cheese and is packaged shortly after preparation. "Basically there is no aging," states Mavrellis. He describes the cheese as being similar to a mozzarella or a string cheese. "The flavor of Halloumi is very appealing and, unlike most other cheeses, is mellow and tangy, but not too strong."
Halloumi has many uses. According to Mavrellis, it can be used in any way you like. "In Cyprus it is very popular with bacon and eggs. It is perfect with melon and in salads with tomatoes, radicchio and a Greek dressing." It also is used as a stuffing for ravioli and pastries and as a sandwich ingredient. It can be grated.
Perhaps one of its most popular uses is grilled. Due to its unique qualities, the cheese softens when grilled, but does not melt. There is no other cheese that grills up so nicely. When grilled, the outside takes on a light, golden color and the inside becomes soft instead of runny. A few grilled slices on top of arugula or mixed greens with a drizzling of olive oil is superb. For an appetizer, think mozzarella sticks and substitute Halloumi. According to Droushiotis of the Cyprus Board, this is the best way to sample the cheese. In fact, he says they will provide demo people for in-store tastings. "The best way to introduce people to Halloumi is to have someone grill it in the store and hand it out to people. Since it is relatively new to the American palate, this is an excellent way to introduce people to it," he says.
Halloumi's fame has spread far from the Island of Cyprus, and it has become another choice of fine cheese for aficianados.
---
"Detroit News August 12, 1999"
The incredible Cypriot cheese, has been around for hundreds of years but is just now catching on in the United States. Halloumi is made by hand from a mix of sheep's and goat's milk that comes from the Paphos region of Cyprus. The soft, springy, oval-shaped curd resembles a fresh mozzarella and has a mild yet tangy flavor. The best part is that it's so versatile. It can be grilled, grated, marinated, fried or eaten plain. Try a slice on a grilled portabello mushroom sandwich, cubed on top of a salad, or sliced and grilled and served for breakfast with your eggs. It's not only delicious, but an unopened packaged will keep refrigerated for a year and also can be frozen. Available for $10 to $12 a pound at all Merchant of Vino/Whole Foods, Nino Salvaggio, Vic's, Papa Joe's and Holiday Markets.