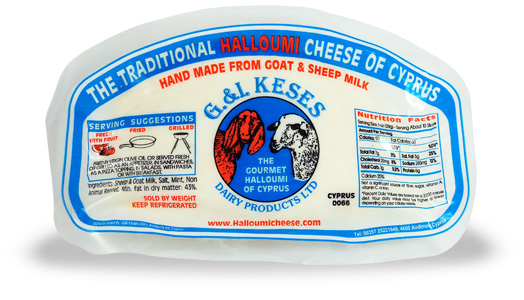 Halloumi Cheese - The Gourmet Cheese of Cyprus
Halloumi Cheese from G&I Keses / International Appetites is one of the most unique cheeses you will find on the market today. Its texture and presentation is not to be missed... grilled or pan-fried, the cheese does not melt! Prepared in this fashion, its crisp crust exterior envelopes the intense flavor and aroma of the firm interior. The cheese retains a "squeaky" mouth-feel that is luxurious and unique on the palate. And those with difficult tastes will be delighted by its flavor: intense yet mild, almost like a salty, fresh mozzarella... what more can you ask for?
Our gourmet halloumi cheese is made by hand and takes its shape in traditional straw containers. It is stored in its natural juices with salt-water, the same way it was stored and matured in the old times when there were no refrigerators.
Our authentic halloumi is produced from selected goat and sheep's milk of our own and other free pasture herds.
You've never seen Grilled Cheese like this!